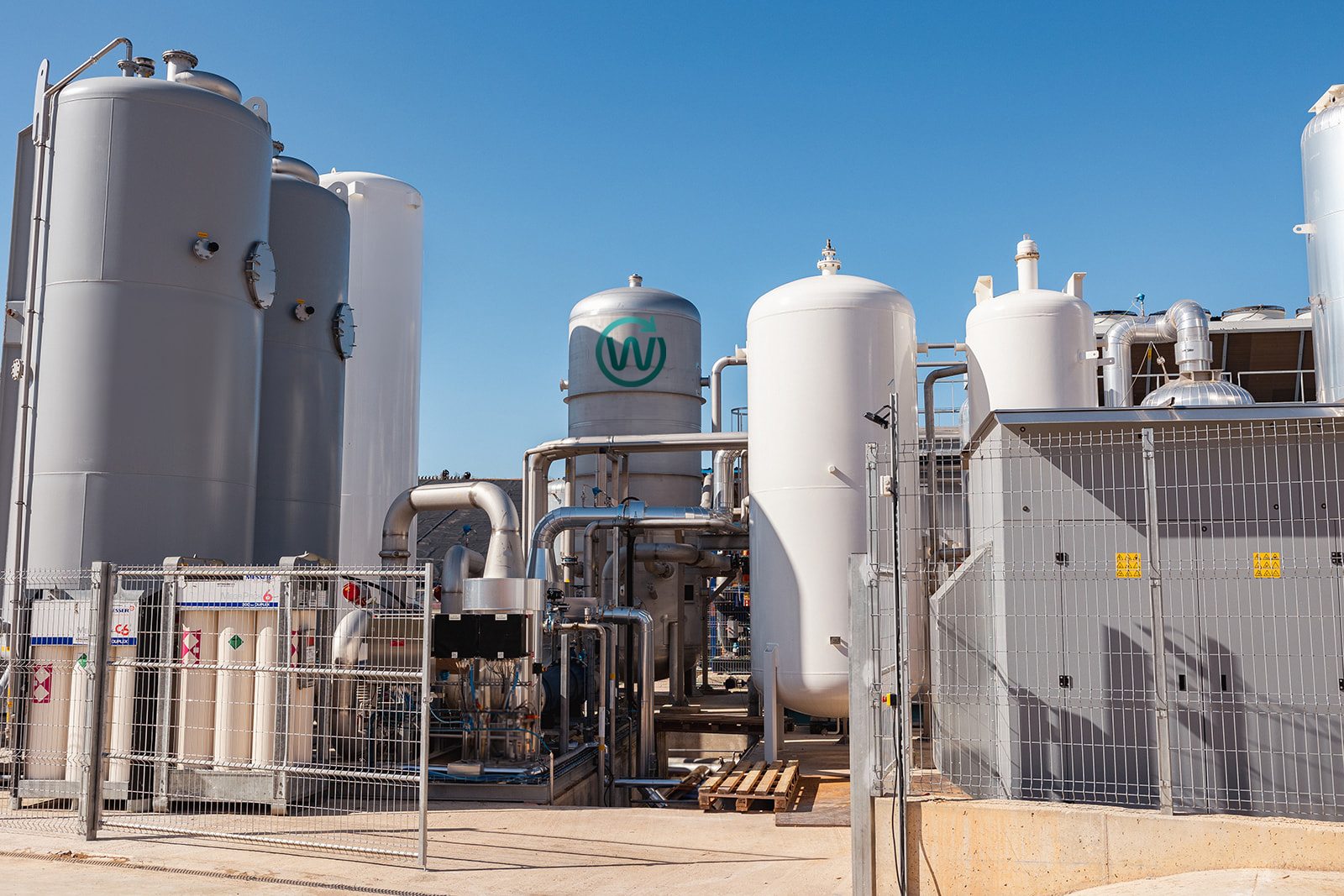 On Tuesday, June 20, Waga Energy commissioned a new Renewable Natural Gas (RNG) production unit at the Can Mata landfill operated by PreZero in Els Hostalets de Pierola, near Barcelona (Catalonia).
The first WAGABOX® unit in Spain, developed and patented by Waga Energy, will inject 70 GWh (240,000 MMBtu) of RNG per year into the grid of the gas operator Nedgia (Naturgy group). This is equivalent to the gas consumption of 14,000 Spanish households, or to a fleet of 200 buses using it as biofuel. Thus, we act to avoid the emission of 17,000 tons of CO2 eq each year, contributing to the reduction of emissions and combating global warming.
The facility has obtained ISCC EU certification, demonstrating that its production complies with the sustainability and greenhouse gas emission reduction criteria defined by the EU RED II Directive.
This innovative project has also obtained a grant of 2.4 million euros from the European Union through the Innovation Fund – Small Scale program for the promotion of technological innovation for the reduction of greenhouse gas emissions.
*Disclaimer: the contents of this publication are the sole responsibility of Waga Energy and do not necessarily reflect the opinion of the European Union.
"The commissioning of the WAGABOX® unit at Can Mata is a major milestone in the deployment of Renewable Natural Gas in Spain and a further step towards achieving the energy transition and fighting climate change. This innovative project owes its success to an exemplary collaboration between the teams of Waga Energy, PreZero and Nedgia, driven by a shared desire to take tangible steps to preserve our environment."
Mathieu Lefebvre, CEO of Waga Energy 
"This project consisting of upgrading landfill gas into grid-compliant renewable natural gas, to supply homes, businesses and vehicles, is a pioneering project in Spain, and is set to become an international reference for circular economy."
Gonzalo Cañete, CEO of PreZero in Spain and Portugal
"Injecting 70 GWh of renewable gas through the Can Mata facility in Hostalets de Pierola showcases how technology and business collaboration bring to life a project that seamlessly combines green energy and circular economy. At Nedgia, we firmly believe in the significant contribution of projects like this to improve security of supply, reach climate targets, and allow emissions reduction for our customers, without requiring additional investments."
Raúl Suárez, CEO of Nedgia
More information