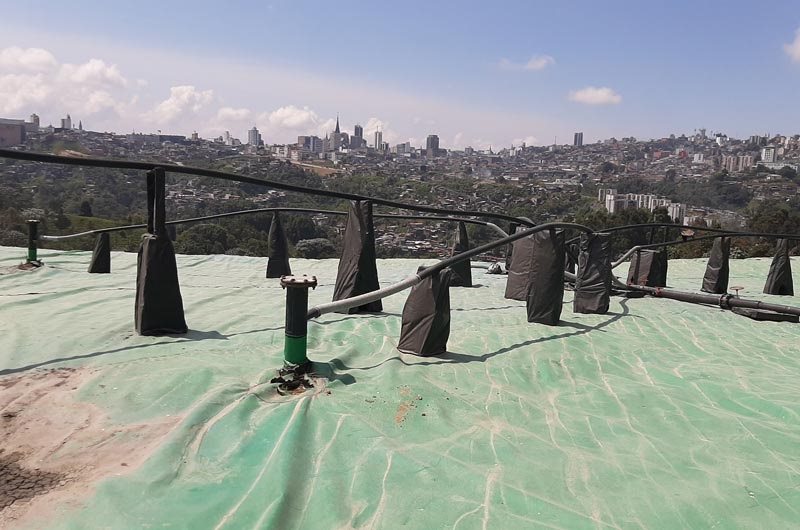 In February 2023, five Waga Energy engineers were assigned to Manizales, a city in central Colombia with a population of 450,000, to assess the feasibility of producing RNG at the Environmental Technological Parc of La Esmeralda.
This mission is funded by the French Treasury through the Private Sector Studies and Support Fund (FASEP) earmarked for French companies carrying out feasibility studies or demonstrations of innovative technologies abroad.
The La Esmeralda site operated by Emas by Veolia, a company founded by the City of Manizales and the Veolia Group, processes 200,000 metric tons of waste every year. Exceeding mandatory requirements in Colombia, it is equipped with a biogas collection system connected to a flare stack, which prevents the emission of methane into the atmosphere. The Waga Energy delegation is assessing the feasibility of connecting this system to an RNG production unit using the WAGABOX® technology and injecting its output into the local gas grid operated by the company Efigas.
The project launch meeting was attended by Carlos Mario Marín Correa, Mayor of Manizales, and Juan Carlos Quintero, General Manager of Emas by Veolia. The French delegation also met with representatives of the Catholic University of Manizales, Autonomous University of Manizales and SENA (Servicio Nacional de Aprendizaje), a public vocational training institution, to promote careers in biogas.
Colombia has approximately 170 landfills which process over 12 million metric tons of waste every year. According to projections by Waga Energy engineers, building WAGABOX® units on 25 of these sites could could supply up to 2.3 TWh of RNG per year, covering the needs of around 1.6 million Colombian households.
"Using our technology, the La Esmeralda landfill could produce 50 GWh of RNG per year, supplying approximately 19,000 households. This project has the potential to avoid the emission of 8,500 metric tons of CO2eq into the atmosphere per year by reducing fossil-based natural gas use,"
Giulia Barina biogaz expert at Waga Energy.
"We'd like to replicate here what we're doing in France with the University of Grenoble, helping teaching staff to include concrete examples related directly to our industrial activity in their courses, and thus encouraging the emergence of a specialist pathway in renewable gases. Contacts made during this mission could lead to academic partnerships between France and Colombia,"
Michael Guillin Training Manager at Waga Energy.