Waga Energy supplies biomethane produced using the innovative WAGABOX® purification technology under long-term BPA

(Biomethane Purchase Agreement)

contracts throughout the world.
The biomethane produced by the WAGABOX® units is a renewable

drop-in replacement

for fossil natural gas, in all its uses as a fuel.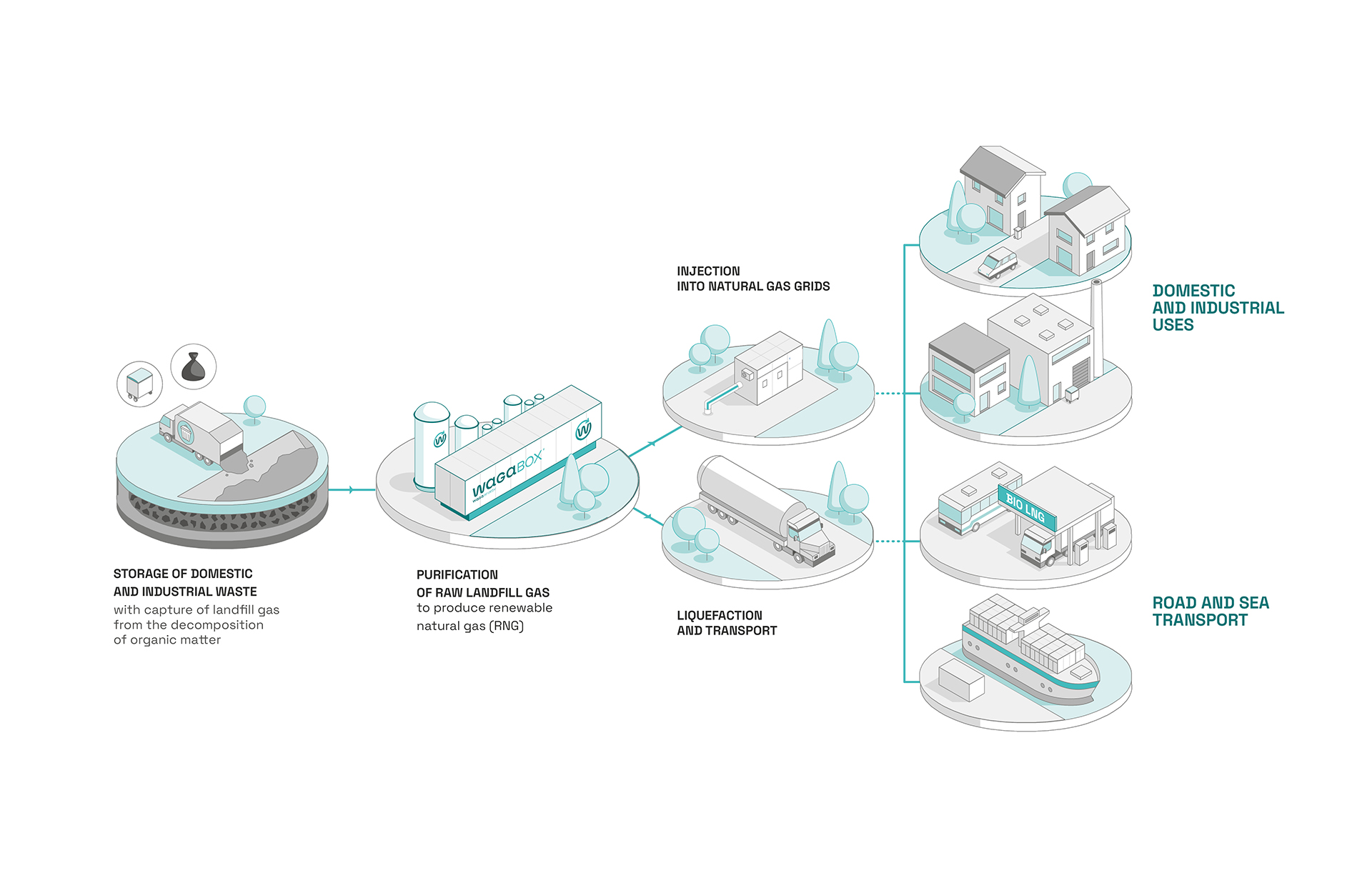 What are the advantages of biomethane produced from waste ?
Decarbonised energy, a pillar of the energy transition
Biomethane is a renewable substitute for fossil natural gas: with the same energy properties, it can replace it in all its uses as a fuel, both domestic and industrial.
Injected directly into the mains gas distribution network, biomethane replaces fossil natural gas, reducing up to 90% of greenhouse gas emissions.
Used as a biofuel (bioCNV), biomethane derived from landfill gas produced by waste helps to reduce CO2 emissions compared with diesel, provides a 95% reduction in fine particle emissions and a 50% reduction in nitrogen oxides (NOx) compared with petrol or diesel.
Competitive renewable energy
To expand the widespread development of biomethane as a substitute for fossil natural gas, we are committed to ensuring that its price is attractive for consumers. 
The purification of biogas, a by-product of waste storage, made possible by the innovative WAGABOX® technology, enables us to produce biomethane at a competitive price. 
It has other strategic advantages for buyers beyond its low environmental footprint: a stable production cost that is unaffected by fluctuations in other energy sources, and reduced transport costs because it is produced locally.
 
Whatever the size of the landfill site or the quantity of landfill gas processed by the WAGABOX® units, biomethane production volumes are predictable and regular. 
These volumes are guaranteed to buyers via private (landfill gas Purchase Agreement) contracts in which Waga Energy enters into long-term commitments with its partners.
Guarantee of origin and conformity
Waga Energy has its WAGABOX® production units certified to guarantee the quality, sustainability and conformity of the biomethane sold. 
In Europe, WAGABOX® units with a production capacity in excess of 20 GWh are EU ISCC (International Sustainability and Carbon Certification) certified.
In North America, the biomethane produced by our WAGABOX® units allows us to generate Renewable Identification Numbers (RINs).
Industrial expertise and technological reliability
The reliable, high-performance WAGABOX® technology, developed using Waga Energy's expertise in gas engineering, produces 98%-pure biomethane that is suitable for injection into biomethane networks. 


Producing biomethane by purifying

landfill gas

from landfill waste is a technological feat made possible by the innovative WAGABOX® solution developed and patented by Waga Energy.
Thanks to the combination of two
cutting-edge
technologies for purifying
landfill gas
from waste, the biomethane produced by the WAGABOX® units is 100% suitable for injection into distribution networks, replacing
biomethane
of fossil origin:
Already in use at dozens of landfill sites around the world

operated

by local authorities and leading landfill site operators, WAGABOX® technology

opens up

new opportunities for recovery, combining energy, environmental and economic performance.
Are you looking for a renewable, decarbonised, competitive and rapidly available gas?
Contact our experts.
Lucie Tonnellier
Director of Energy
Maria Perez Adroher
RNG sales broker