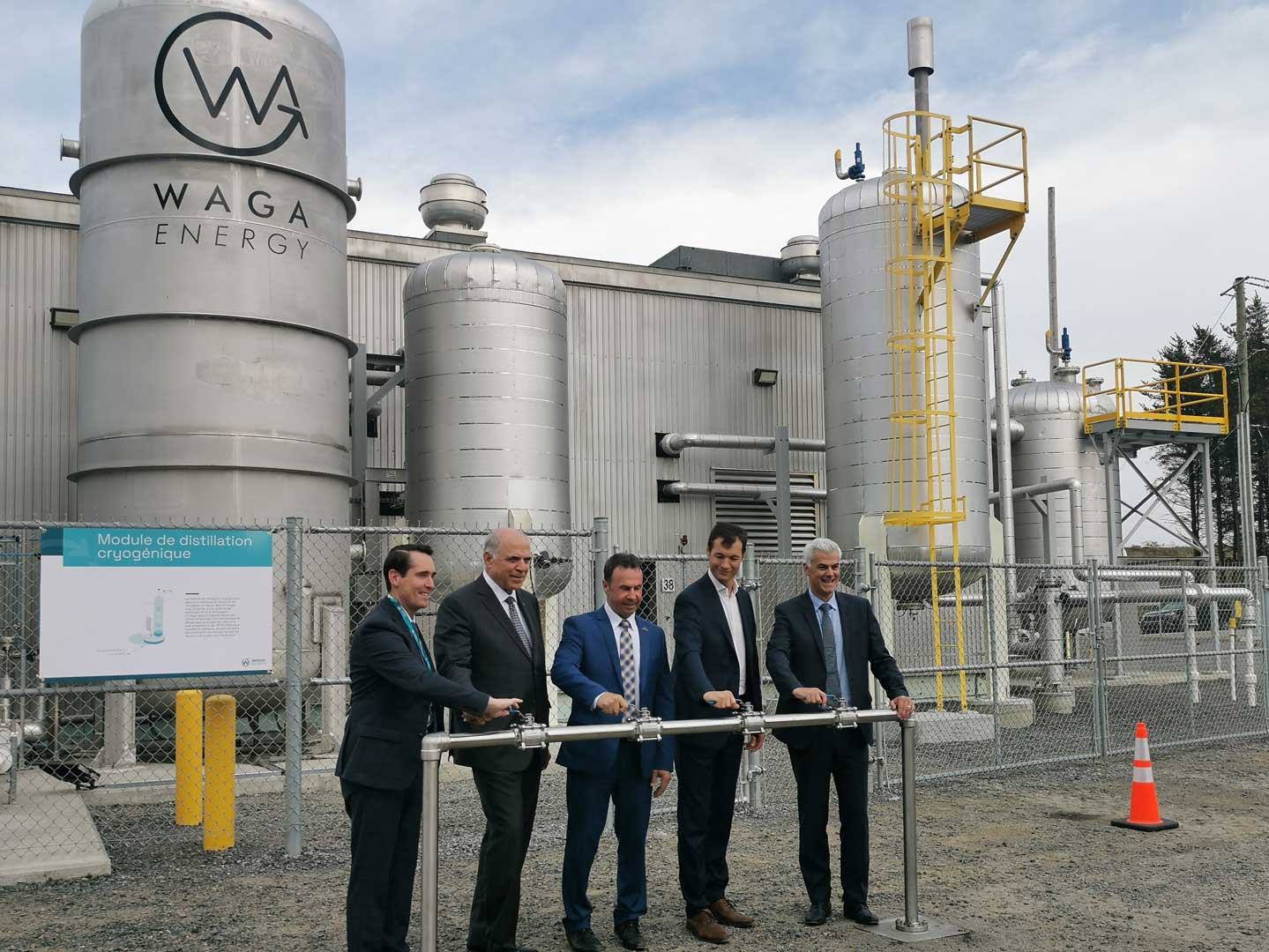 The WAGABOX® unit commissioned in May 2023, can produce up to 468,000 Gj (130 GWh) of Renewable Natural Gas per year which represents the equivalent to the consumption of around 8,000 Quebec households.
The RNG production is directly injected into the Énergir gas distribution pipeline and will avoid the emission of 21,500 tons of eqCO2 per year by reducing the use of fossil natural gas. This project contributes to the objective set by the Quebec government's "Plan for a Green Economy" of achieving 10% RNG in the gas network by 2030, and helps decarbonizing industrial activity in Energy Transition Valley, Quebec's third innovation zone.
The construction of the WAGABOX® unit, carried out mainly by Quebec-based companies, and its connection to the gas network were financed by Waga Energy, with government support including a $2.3 million loan to Waga Energy from Investissement Québec, acting on behalf of the Ministère de l'Économie, de l'Innovation et de l'Énergie (Economy, innovation and energy Ministry), to support this implementation project. The Ministère de l'Environnement, de la Lutte contre les changements climatiques, de la Faune et des Parcs (Environment, Fight against climate change, wildlife and parcs Ministry), through its Technoclimat program, granted a financial contribution of $3.1 million to the company.
Located 150 kilometres east of Montreal, the Saint-Étienne-des-Grès site is the largest landfill owned by a municipal organization in Quebec. To avoid direct methane emissions into the atmosphere, biogas was previously captured and burned in a flare. This historic event for Waga Energy was attended by Pierre Fitzgibbon, Minister of the Economy, Innovation and Energy and Minister responsible for Regional Economic Development, Michel Angers, President of Énercycle, and Mathieu Lefebvre, President and CEO of Waga Energy. Nearly 80 people came to the Énercyle site to celebrate the day.
"By converting biogas from the Énercycle landfill site in Saint Étienne des Grès into RNG, Waga Energy is proposing an exemplary circular economy model, while strengthening Quebec's expertise in a new energy sector of the future. By supporting initiatives like this one, we'll reduce the carbon footprint of the Mauricie region and all of Quebec."
Pierre Fitzgibbon, Minister of the Economy, Innovation and Energy, Minister responsible for Regional Economic Development and Minister responsible for the Metropolis and the Montreal Region
"At last! We are turning an expense into income by converting biogas into renewable energy. The technology provided by our partner Waga Energy is becoming a key component of our waste-to-energy facilities. Since May 2023, Waga Energy has been converting landfill biogas into renewable natural gas, and we will soon also be entrusting them with the biogas from our future dry biomethanization and composting plant. We're very proud that Enercycle is contributing to Quebec's energy transition. "
Michel Angers, Chairman of Enercycle
"Thanks to WAGABOX® technology, the Saint-Etienne-des-Grès landfill site is now supplying the Mauricie region with local, renewable gas, thereby contributing to the decarbonization of the region. This innovative project was born of the desire of Enercycle's management to produce RNG on the Saint-Etienne-des-Grès site, in support of Quebec's energy transition. We are proud to be part of the realization of this vision, in partnership with Énergir and with the support of the Quebec government."
Julie Flynn,General Manager of Waga Energy Canada
"This promising project is the result of a fruitful collaboration with our partners Waga Energy and Énercyle, who, thanks to their respective expertise, have enabled Saint-Étienne-des-Grès to become the first technical landfill site in the province to sell its RNG to Énergir for local consumption. It will not only help us achieve our goal of distributing 5% RNG by 2025 and at least 10% by 2030, but also increase the volumes available so that RNG maintains its leading role in Quebec's energy transition."
Renault-François Lortie, Vice President, Customers and Gas Supply at Énergir